On 9 January 2023, the Malaysian-American Commission on Educational Exchange (MACEE) paid a visit to UTAR Sungai Long Campus. A discussion took place physically at UTAR KB Block and over Microsoft Teams.
The representatives from MACEE were Executive Director Mr. Curtis Johnson and Fulbright Senior Program Manager Ms. Kalis Subramaniam. Meanwhile, representing UTAR at the discussion were UTAR President Ir. Prof Dato' Dr Ewe Hong Tat, UTAR Vice President for R&D and Commercialization Prof Ts Dr. Faidz bin Abd Rahman, Lee Kong Chian Faculty of Engineering and Science (LKC FES) Dean Assoc Prof Ts Dr Yap Wun She, Faculty of Creative Industries (FCI) Dean Dr David Tneh Cheng Eng, Faculty of Accountancy and Management (FAM) Dean Dr Pok Wei Fong, M. Kandiah Faculty of Medicine and Health Sciences (MK FMHS) Deputy Dean for Student Development and Industrial Training Assoc Prof Dr Leong Pooi Pooi, Institute of Postgraduate Studies and Research (IPSR) Director Assoc Prof Dr Yong Thian Khok, IPSR Deputy Director Prof Ts Dr Lim Yang Mooi and Division of Community and International Networking (DCInterNet) Director Assoc Prof Dr Lai Soon Onn.
Also attending the discussion from UTAR Kampar Campus via Microsoft Teams were Faculty of Engineering and Green Technology (FEGT) Dean Ir. Prof Dr Ng Choon Aun, Faculty of Information and Communication Technology (FICT) Dean Prof Dr Liew Soung Yue, Faculty of Arts and Science (FAS) Dean Dr Lee Lai Meng, Faculty of Science (FSc) Dean Assoc Prof  Dr Lim Tuck Meng, Faculty of Business and Finance (FBF) Deputy Dean for R&D and Postgraduate Programs Assoc Prof Dr Choong Yuen Onn and DCInterNet Deputy Director Dr Chen, I-Chi.
The main purpose of MACEE's visit was to promote the Fulbright program, a flagship international academic exchange program which aims to increase mutual understanding between the citizens of the United States of America and other countries through classroom teaching and community engagement. Throughout the discussion, MACEE and UTAR discussed the Fulbright program scholarship and grant opportunities for both students and academic staff. The former also took the opportunity to officially invite UTAR to MACEE's 9 February 2023 Conference.
In his opening remarks, Prof Dato' Ewe said, "We are extremely honored to officially collaborate with MACEE and provide the grants and scholarships offered by the Fulbright program to UTAR staff and students. In previous years, we have had many staff and students who joined the Fulbright program, all of whom had only positive things to say about it. Thus, by collaborating with MACEE, UTAR staff and students will have a better opportunity to join the Fulbright program"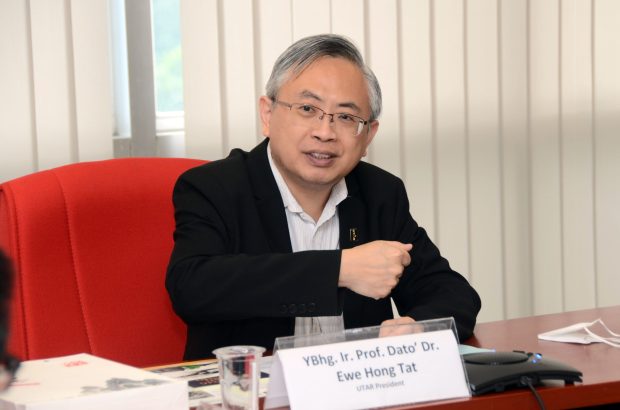 Prof Dato' Ewe expressing his gratitude to MACEE
Speaking about MACEE and the Fulbright program, Mr. Curtis Johnson said, "The Fulbright program aims to give Malaysian students and researchers the chance to study and work in the United States and experience the culture there. At MACEE, we believe one of Malaysia's most important natural resources is its students, and we would like to give Malaysian students and researchers the opportunity to further their studies in the United States while bringing American students and researchers to Malaysia. He added, "At MACEE, we are trying to reaffirm our relationship with Malaysian public and private universities, and specifically today, with UTAR. We aim to improve our relationship with universities all over Malaysia with the Fulbright program, as we strive to nurture Malaysian education in becoming a powerful force."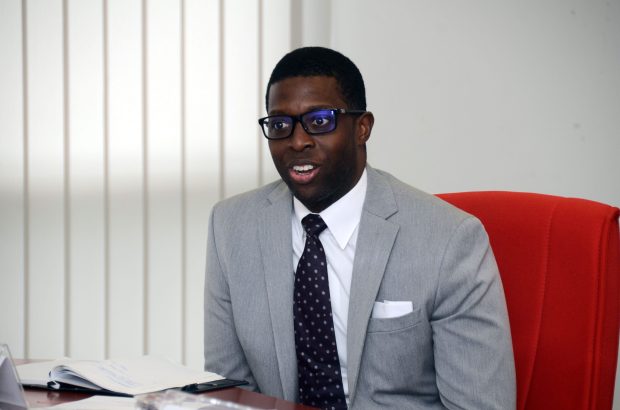 Mr. Curtis Johnson explaining the Fulbright Program
The visit ended with a short souvenir exchange between both parties.
Prof Dato' Ewe (left) and Mr Curtis Johnson (right) exchanging souvenirs