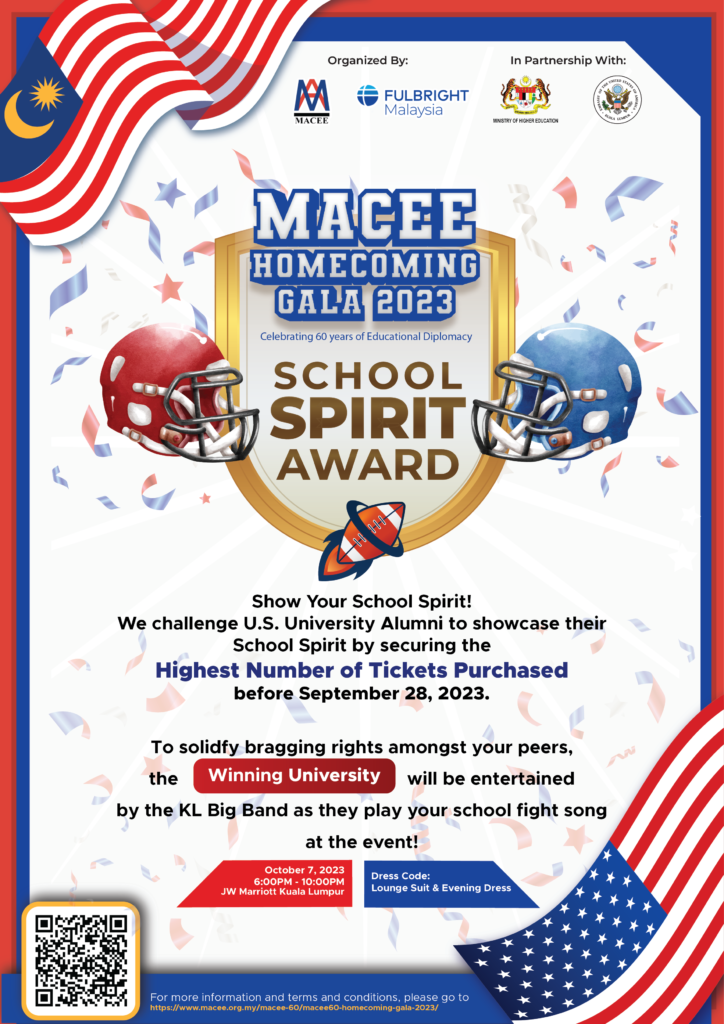 Join us for the MACEE Homecoming Gala 2023: Celebrating School Spirit Competition! We challenge Malaysian U.S. University Alumni to showcase their School Spirit by securing the Highest Number of Tickets Purchased before September 15, 2023.
In addition to securing bragging rights amongst your peers, the top-performing university will be serenaded at the event by the KL Big Band when they play your school fight song!
Contest Terms & Conditions
1. Contest Description
The contest is a ticket drive for a gala dinner for Malaysian alumni of U.S. universities. The alumni group that purchases the most tickets will be recognized at the Gala dinner, and their school song will be played.
2. Eligibility
The contest is open to Malaysian alumni of U.S. universities.
3. Contest Period
The contest will commence on August 17th and end on September 28th at 9:00 PM (Malaysia time).
4. How to Enter
To enter the contest, participants must purchase a ticket to the gala dinner and indicate their university in the processing form during the ticket purchase.
5. Entry Requirements
The entry requirements are the same as mentioned in section 4.
6. Judging Criteria
The top school with the most entries will be acknowledged as the winners of the contest.
7. Prizes
"Best U.S. Alumni Association in Malaysia." Additionally, during the Gala dinner, their school fight song will be played.
9. Winner Notification
Winners will be notified at the Gala dinner. Each school that has an alumni organization will be informed in advance if they are finalists, ensuring that one person from the respective organization will be available to accept the award during the Gala.
10. Publicity and Privacy
By participating in the contest, participants grant permission to the Malaysian-American Commission on Educational Exchange (MACEE) to use photos taken during the event for promotional and publicity purposes.
11. Disqualification
Any attempt to provide false information or engage in unethical practices, such as artificially inflating ticket purchase numbers, will result in disqualification from the contest.
12. General Terms
a. The decision of the judges regarding the winners will be final and binding.
b. Participants must comply with all applicable laws and regulations while participating in the contest.
c. MACEE reserves the right to modify or cancel the contest at its sole discretion without prior notice.
d. Participants are responsible for any taxes or expenses incurred as a result of winning the contest.
e. By entering the contest, participants agree to abide by these terms and conditions.
If you have any questions, please email us at homecoming@macee.org.m