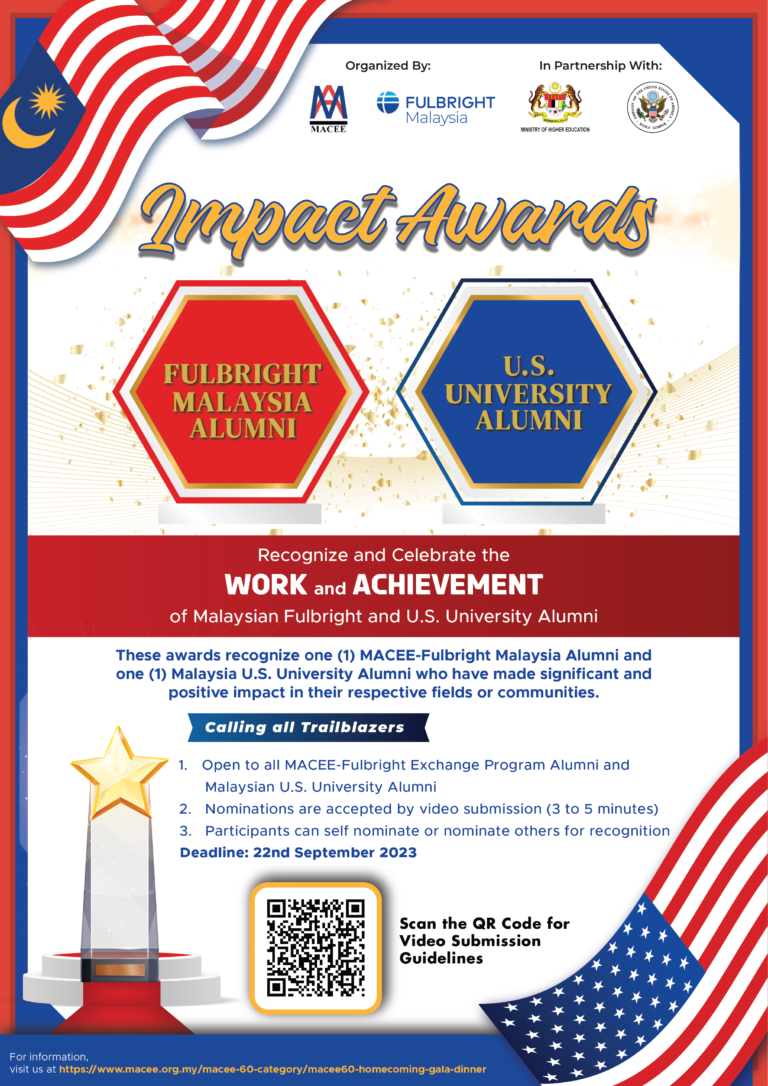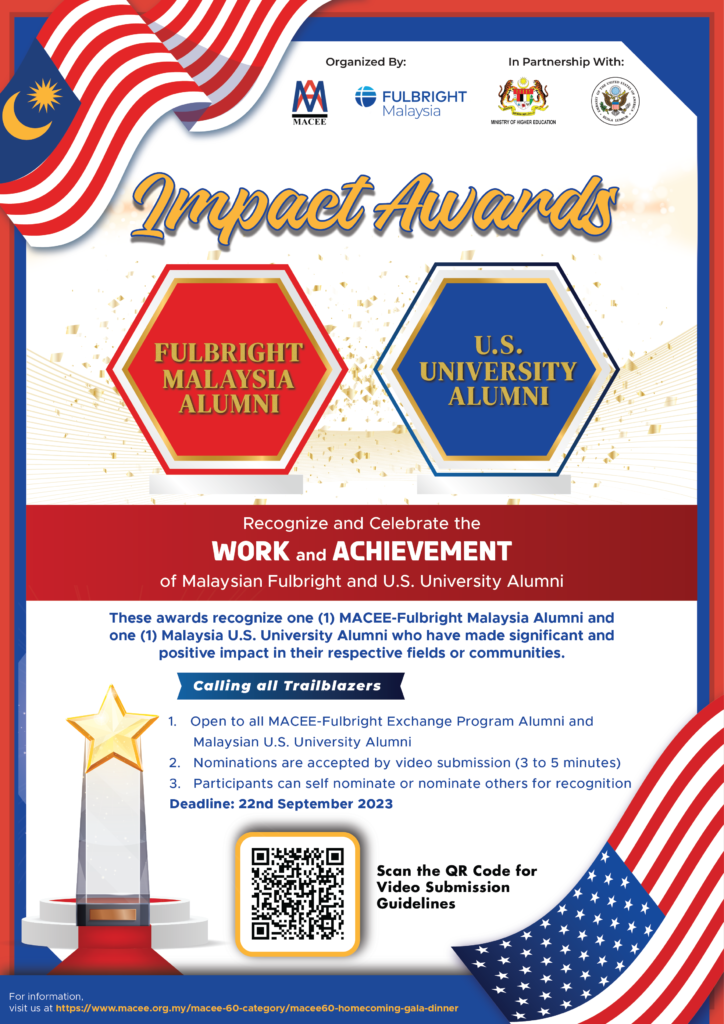 It is with great enthusiasm that Team MACEE announces the launch of both the Malaysian Fulbright and U.S. University Alumni Impact Awards 2023. These awards recognize one (1) MACEE-Fulbright Malaysia Alumni and one (1) Malaysian U.S. University Alumni who have made a significant and positive impact in their respective fields or communities.
The MACEE and the Fulbright program have long stood as a beacon of academic and cultural exchange, fostering connections between our two nations. These Impact Awards aim to celebrate and showcase the outstanding achievements of our alumni who continue to uphold the program's values and principles.
Why Should You Apply or Nominate?
This is an opportunity to shine a spotlight on the transformative work you or your contemporaries have undertaken since participating in the Fulbright program or studying in the United States.
We are seeking individuals who can demonstrate:
1. Significant and Positive Impact: Showcase how the nominee's endeavors have made a substantial and positive difference in the nominees' field or community.
2. Addressing Societal Challenges: Present evidence of their contributions towards addressing pressing societal challenges, whether through research, innovation, or creative endeavors.
3. Leadership and Innovation: Highlight leadership, innovation, and creativity within the nominee's area of expertise.
4. Fulbright Values: Show a clear connection between success and the values and principles instilled by the Fulbright or academic pursuits in the U.S.
How to Apply
Applying is simple. Nominees can either be self-nominated or nominated by others who recognize their exceptional work. We encourage all eligible Malaysian Fulbright and Malaysian U.S. University Alumni to participate and put forth their achievements for consideration.
Key Details
Closing Date: Friday, 22nd September 2023
To apply or nominate someone: Click on the award link below that corresponds to your category and follow the submission guidelines.
MACEE-Fulbright Malaysia Alumni Impact Award
Malaysian U.S. University Alumni Impact Award
Dinner Tickets: Nominees and nominators must purchase dinner tickets in advance for award consideration.
Results Announcement: Winners will be announced during the gala dinner.
Prize Package
Trophy

Winner's video feature on the MACEE website

Opportunity for an interview with a leading English daily

A segment on a popular radio interview showcasing the winners' achievements and insights.
This is the chance to be recognized for the remarkable contributions and to inspire others within the Fulbright community. These stories are powerful, and they deserve to be shared.
If you have any questions, please email us at homecoming@macee.org.my