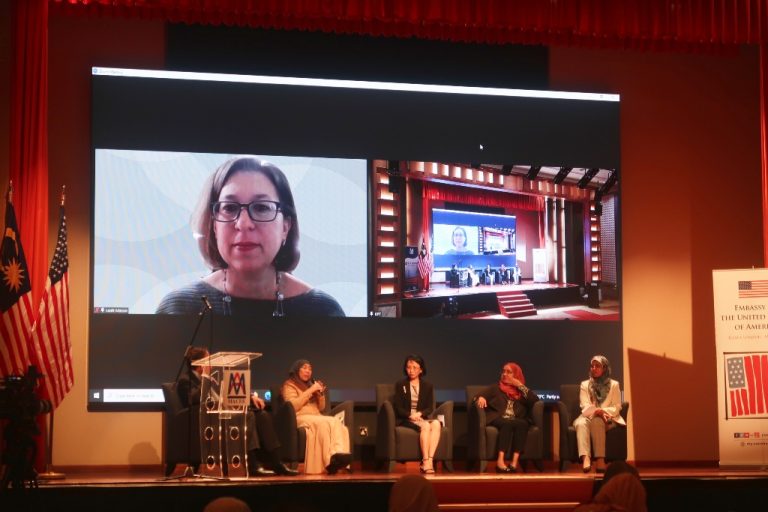 Leah Mason (on shown on the screen), a Research Lead from the Institute of International Education talking about international student mobility trends and the Malaysian perspective at the MACEE@60 event. Source: Nathan Hew
International students are returning to the US, in numbers gradually reflecting what it was before the coronavirus pandemic, according to data from the Institute of International Education.
The 2022 Open Doors Report is a survey of international exchange activity in the US, sponsored by the US Department of State Bureau of Educational and Cultural Affairs.
"In 2019-20, US inbound mobility witnessed an unprecedented [drop] due to the COVID-19 pandemics," shares Leah Mason, a Research Lead from IIE during the MACEE@60 event.
"Last year, international student numbers decreased by 15% to just over 940,00 students. Just one year later, we are seeing a rebound of international student numbers by 4%, to almost 950,000 international students."
The MACEE@60 event is the first of many activities celebrating the 60th anniversary of the Malaysian-American Commission on Educational Exchange (MACEE).
It is a binational commission dedicated to fostering educational and cultural exchange opportunities between Malaysia and the US.
Established in 1919, IIE is one of the oldest organisations facilitating exchanges like the Fulbright Programme, Benjamin A. Gilman International Scholarship, Hubert H. Humphrey Fellowship Programme, and International Visitor Leadership Programme.
With many travel restrictions lifted, international students are slowly returning to the US. Source: Issac Lawrence/AFP
Students returning to the US: Previous and current hurdles

Travel restrictions prevented thousands from returning to the US, more so during the peak of the COVID-19 pandemic.

Countries like Australia, Japan, and Canada imposed travel bans and lockdowns.
Visa issues prevented many from returning to the US as well, as stated in a report by the UNESCO International Institute for Higher Education in Latin America and the Caribbean.
The number of Malaysians studying in the US has remained stable over the past decade.
Mason shares that increases and decreases in the data can be attributed to "changes in scholarship opportunities, a shift in economic and the pandemic."
"In 2021-22, 4,933 Malaysian students enrolled at 511 US institutions, a decline of 7% from the previous year," she says.
"This decline is similar to the decline in other countries in the region where COVID-19 border and travel restrictions limited student mobility."
International students from Bangladesh, India, Malaysia, and China tend to focus on science, technology, engineering, and mathematics (STEM) subjects.
Malaysia has 55% of its students in STEM fields, while 16% are studying business and management and another 10% are pursuing areas related to social sciences.
Whether a programme caters to niche interests and prepares one for a career can also impact whether someone chooses to study abroad.
"Having those mobility experiences where they may have the possibility to participate in an internship or other experiential events, such as service learning, is a meaningful way to connect back to their field of study and future employment," says Mason.